WELCOME TO
YOUR
COMMUNITY
Events • Resources • Education
Monterey Peninsula Pride
Parade and Celebration
Saturday July 20th, 2019
Custom House Plaza
Parade 11am — Celebration 12 pm
AGENDA
Parade 11am — 12pm
Parade Kickoff Speech
Congressmember Jimmy Panetta (D-CA 20th District)
Celebration 12pm — 3pm
Celebration Kickoff Performance
Celebration Speakers
Mayor Clyde Roberson, City of Monterey

Councilmember Jeff Baron, Carmel-By-The-Sea

Interfaith Welcome

Rev. Michelle Jelinch, Progressive Christian
Unity Church of Monterey Bay, Monterey

Rev. Axel & Elaine Gehrmann, Unitarian Universalist
Unitarian Universalist Church of Monterey Peninsula, Carmel

Rev. Debbie Mcdonnell, New Thought
Monterey Center For Spiritual Living, Monterey

Rev. Sara Hunsaker, Zen Buddhist Priest
Monterey Bay Zen Center, Monterey/Carmel

Rev. Jay Shinseki, Buddhist
Monterey Peninsula Buddhist Temple, Seaside

Rev. Kenneth Murray, Baptist
The Only Way Outreach Ministries, Seaside

Steven Goings & Quazar, Coordinator CSUMB NCBI

Mickey Welsh, Grand Marshal, ACLU

Paul Richmond, Artist/Activist

Sarah Luiz Chandler, Rainbow Speakers and Friends

Bianca Zamor, Artist/Poet
Drag Show
DJ AyumiPlease

Rufi-Oh

Armani

Trans Jenner

Destiny Michaels

Athena D-Amore

Catinni P. Vandon
The parade will begin at 11am at Hartnell St. & Polk. St. with a kickoff speech from Congress Member Jimmy Panetta. We will then march down Polk and Alvarado Streets to Custom House Plaza.
If you are planning on marching in the parade, join us at Polk St starting at 10am. We will also be making signs to help show your pride!
OUR SPONSORS
Community Human Services
Old Monterey Business Association
Farmers Insurance — The Watson Agency in Watsonville
Whole Foods Market
Paper Wing Theater
ACLU Monterey County Chapter
Intimacy, Sexuality, and Gender Center of Monterey
SPECIAL THANKS
Baker's Pride Pop-Ups
The Dali Expo
Galante Vineyards
Juan Reyes, Graphic Designer
MY Museum - Monterey County Youth Museum
Trader Joe's Pacific Grove
Wave Street Studios
… and to the hundreds of individuals who contributed their time and money to help make this program possible.
Youth programing made possible through a grant from
PANEL DISCUSSION AT WAVE STREET STUDIOS
The day after the pride parade and celebration, join a panel of pride organizers and local community members as they discuss the event and development of the new nonprofit Monterey Peninsula Pride. A Q+A will take place after the panel for our live audience members. This panel is free and welcome to all.
Sunday, June 21st
11 AM – 12:30 PM
Wave Street Studios
774 Wave St. Monterey, CA 93940
Can't be there in person? No problem! You can watch Wave Street Studios' live feed of the panel here: https://youtu.be/ILvbhA18TTI
This year's panelists include:
Quazar: Coordinator, National Coalition Building Institute, CSUMB

Tyller Williamson: Co-chair/Co-founder, Monterey Peninsula Pride

Mickey Welsh: Constitutional Lawyer/Activist, American Civil Liberties Union
MERCH
Get your Monterey Peninsula Pride logo t-shirts and sweatshirts on our online store hosted by Central Coast Silkscreen.
Bowling at Monterey Lanes
Third Monday Every Month
Join the LGBTQ & Friends Meetup Group for Monday Mayhem at Monterey Lanes. After 9 p.m., there are $3 games and $3 shoe rentals. This is always a family-friendly event. Don't forget your socks!
Trivia at London Bridge Pub
First TuesdaY Every MOnth
If you're good at geography, sports, pop culture and more, join the LGBTQ & Friends Meetup Group for Trivia Tuesday at London Bridge Pub. Buy-in for $1 and enjoy a stocked beer and food menu all night.
Social Hour at Springhill Suites
Every Thursday
Tired from a long day at work and need a little pick-me-up? Join the Monterey Bay GLBTQ Network for Social Hour every Thursday at Springhill Suites in Marina. Good people, good drinks, good vibes all around.
Meeting of Friendship
SEcond Monday Every Month
Rainbow Speakers & Friends invites families and friends to share a safe space for a monthly meeting of friendship. And yes, there will be snacks!
Social at The Tavern
Every Wednesday
Join our Salinas Valley Pride friends for Social Wednesdays at the Salinas Sports Tavern from 9 p.m. to midnight. Enjoy drinks specials and no cover.
Drag, Dance and Comedy nights
One Saturday Night A Month
Echelon Entertainment is here to bring you comedy, drag, live music and tasty drinks at Planet Gemini, all served with a side of sass! Tickets cost $20.
Celebrate Pride
The purpose of the annual Monterey Peninsula Pride and Celebration is to unite and serve local LGBTQ+ communities by celebrating our histories, pursuing multicultural equity, developing LGBTQ+ leadership, educating ourselves and others, and cultivating alliances.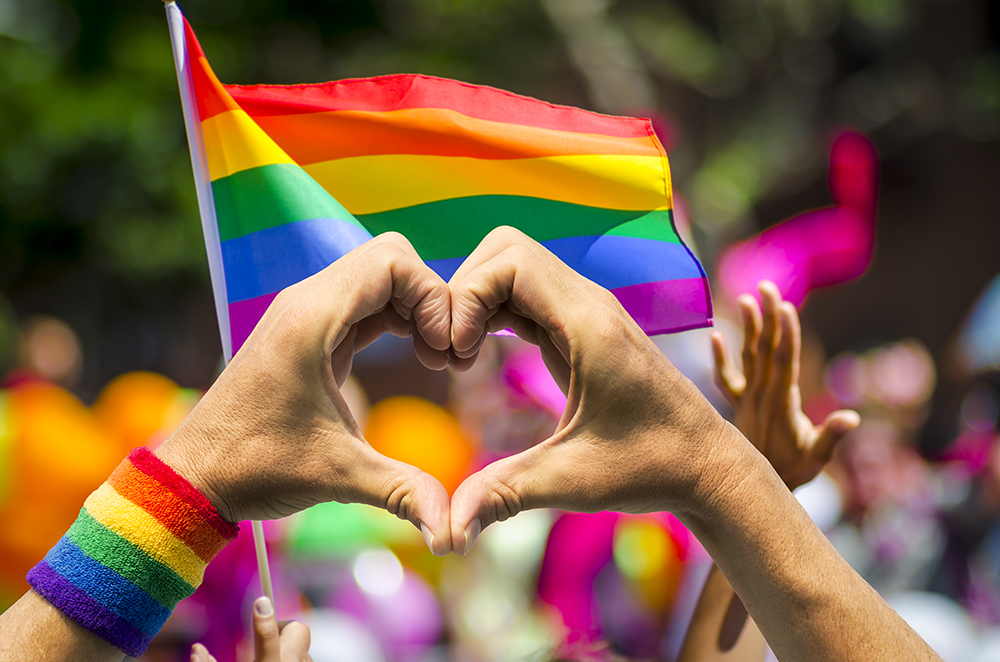 Find Support
As resources grow in monterey county, We're building a directory of LGBTQ-friendly service providers and organizations to support you and your family. From Youth services to support groups, congregations to counseling centers, our goal is to keep the community connected and cared for.
Give Back
We have a whole lot of work to do, and every little bit counts. Your Contribution will support our vision to build a community in which all genders and sexualities are equally welcomed and celebrated. With your help, we can get there that much faster.
Get Connected
New in town and trying to find your fellow rainbows? We remember what that's like. Check out our list of groups in the area so you can get connected. As more social groups and student clubs emerge in our community, we'll make sure you're the first to know.